Nashville, Tenn. (July 16, 2019) — Larry, Steve & Rudy: The Gatlin Brothers are in full sprint to help aid all those grieving a military loss. The legendary country trio has announced the release of a new running/walking shoe that will be sold to help benefit the Tragedy Assistance Program for Survivors (TAPS). The national non-profit organization provides peer-based emotional support, grief and trauma resources, seminars, camps for kids, casework assistance and a 24/7 helpline. All resources and services are provided at no cost to military survivors.

Designed by Boulder, Colorado-based Newton Running, the TAPS x Gatlin shoe is decked out in red, white and blue, and embedded with the Gatlin Brothers and TAPS logos.
"For 25 years, TAPS has provided support for more than 85,000 loved ones and care givers whose families have made the ultimate sacrifice for the freedoms we all enjoy," explains Bonnie Carroll, TAPS Founder and President. "We have enjoyed a long friendship with the Gatlin Brothers who have always given generously of their time and talent to our families. And, we are so excited that we can now welcome Newton Running to the TAPS Family."
"At Newton Running, we are delighted to be partnering with the Gatlin Brothers on this special edition running/walking shoe to benefit TAPS," adds Newton Running Co-Founder Jerry Lee. "We believe that every great cause begins with movement. This project holds a special place in our hearts as we deeply value all those who have served our country and their families." On Saturday morning's edition of Fox & Friends, Larry Gatlin unveiled the new shoe. Following his appearance, the sneakers were sold out within three minutes. Newton Running has since ordered its manufacturing team to step up production to accommodate the groundswell of public demand. Pre-orders are available at newtonrunning.com.

The shoe retails for $150.00 with $50.00 of each purchase going to TAPS. "Great shoes, great people, great cause," says Larry. "Buy 'em. I do!"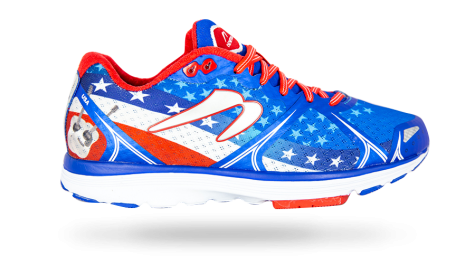 About Larry, Steve & Rudy: The Gatlin Brothers
The close family harmonies of Larry, Steve & Rudy: The Gatlin Brothers have given the trio a signature sound that led to country classics like "All The Gold In California" and "Houston (Means I'm One Day Closer To You)." The brothers won a GRAMMY® for their 1976 breakthrough hit, "Broken Lady," and reached #1 with several other songs soon thereafter. Along with five career nominations for the ACM Vocal Group, the Gatlin Brothers picked up three 1979 trophies: Single of the Year ("All The Gold In California"), Album of the Year (Straight Ahead) and Male Vocalist of the Year for Larry Gatlin. The brothers were also nominated for multiple CMA Awards including Vocal Group of the Year, Single of the Year, and Entertainer of the Year. Larry Gatlin has written songs recorded by Elvis Presley, Glen Campbell, Barbra Streisand, Johnny Cash, Kris Kristofferson, Dottie West, Roy Orbison, Barry Gibb and countless Gospel artists including the Gaither Vocal Band, the Booth Brothers, the Isaacs and many more. After 60+ years of music, the brothers continue to perform nearly 100 live concert dates each year.
For more information on the Gatlin Brothers, visit gatlinbrothers.com.
About TAPS
The Tragedy Assistance Program for Survivors (TAPS) is the leading national organization providing compassionate care and survivor support services for the families of America's fallen military heroes. Since 1994, TAPS has offered support to more than 85,000 survivors of fallen military in the form of peer-based emotional support, grief and trauma resources, grief seminars and retreats for adults, Good Grief Camps for children, case work assistance, connections to community-based care, online and in-person support groups and a 24/7 resource and information helpline for all who have been affected by a death in the Armed Forces. Services are provided free of charge. For more information visit taps.org or call the toll-free TAPS resource and information helpline at 1.800.959.TAPS (8277).
About Newton Running
Newton Running, based in Boulder, CO, is a leading manufacturer and marketer of performance running shoes for runners of all types, from first-time runners to seasoned marathoners. Newton Running's patented Action/Reaction (TM) Technology provides dynamic full foot cushioning and lightweight cushioning. Newton Running shoes are available at hundreds of specialty retailers across the country and around the world and at newtonrunning.com. Launched in 2007, the Company was named after Sir Isaac Newton and Newton's third law, which is the technology that has made Newton Running shoes renowned.  
# # #