Nashville, Tenn. (August 21, 2020) — Rising southern rock group The Georgia Thunderbolts have signed a recording contract with Mascot Records as well as a management deal with Richard Young of Kentucky Headhunters fame. Additionally, United Talent Agency (UTA) will represent the Thunderbolts for North American live concert bookings. The band's first studio recording, a self-titled EP, The Georgia Thunderbolts, drops today, August 21. A new single from the compilation, "So You Wanna Change the World," also releases today with an accompanying music video. 
"The Georgia Thunderbolts are very excited to be signed to such a wonderful team as Mascot Records," says Thunderbolts lead singer T.J. Lyle. "It truly is an honor for us. We wanted to work with a label who understands us for who we are and what we can bring to the table. We found that in the Mascot Records family." 
Young, a staple of southern rock, is not only managing the band but also co-produced the new project along with David Barrick, owner of the legendaryBarrick Recording Studio in Glasgow, KY —  where the EP was recorded. 
On Young managing the group, Lyle adds, "When you work with someone like Richard Young, you had better have your butt in gear. He's always pushing to get the most out of what he can from the band and for the band. His first concern is the band's personal welfare and that's a big deal to us. He's not just a manager, producer and a friend, he's the sixth member of our band." 
"After helping my son John Fred Young's band, Black Stone Cherry, get a start 20 years ago, and having my own band, the Kentucky Headhunters for 50 years, I never dreamed I would find another group that would rekindle the fire and passion I have for The Georgia Thunderbolts," explains Young. "I feel so blessed to have the opportunity to be a part of another 'real deal.' I first heard them when they played with the Headhunters at a festival in Georgia. I was sitting on the bus and heard this band kick off. I remember thinking, 'we better turn the steam up a little bit tonight.' Then this kid opened his mouth. I ran to the stage and watched their whole set. It was like I had been struck by lightning and transported back to when I was younger when southern rock ruled." 
Gigging tirelessly, the band cut its teeth by playing with everyone from Black Stone Cherryand the Kentucky Headhunters to Cadillac Threeas well as Ace Frehley, an original member of KISS. Mascot Records President (North America) Ron Burman caught one gig and signed them immediately. 
Burman notes, "Growing up in Jacksonville, Florida, I have a strong affinity for great southern rock. When I first heard The Georgia Thunderbolts, I was immediately drawn in by their powerful, authentic, bluesy, and southern-flavored rock and great songs. Then, I went to see them play in Nashville at The Basement, and I was blown away. I literally had goosebumps and knew we had to sign them. The singer T.J. has such a distinctive vocal range and style, and they are such a strong rock band. I expect great things to come from them." 
Ahead of its release, the EP's first single, "Looking for an Old Friend," has received mainstream coverage from Grateful Web, the Roanoke Times, and was chosen by Rolling Stone Country as one of its recent "Country Music Picks." American Songwriter called the tune "timeless" and the "quintessential sounds of a summer anthem." Additionally, a second single, "Lend a Hand," from the group who Classic Rock Magazine calls "your new favourite southern rock band," is receiving mainstream radio airplay throughout Europe. The Georgia Thunderbolts is available for purchase today via digital retail providers and can be streamed on Spotify, Apple Music, Amazon Music, and more. 
The Georgia Thunderbolts Track Listing:
1. Looking for an Old Friend
2. So You Wanna Change the World
3. Lend a Hand
4. Spirit of a Workin' Man
5. Set Me Free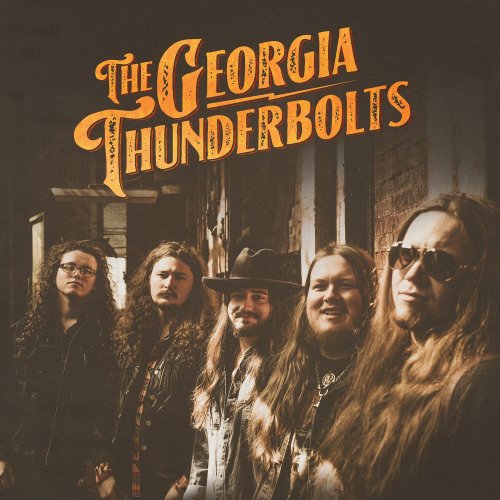 About The Georgia Thunderbolts
Whether it be on the banks of the Mississippi River or deep in the heart of the English countryside, rock 'n' roll lives, breathes, and burns on the outskirts. Hailing from Rome, GA at the foothills of the Appalachian Mountains, The Georgia Thunderbolts rise up with a scorching signature style steeped in soulful southern swagger, blistering blues, and raw rock. Out August 21st via Mascot Records, the quintet's self-titled debut EP conjures a tried-and-true spirit through a fresh fire.  

With a wide swath of inspirations, ranging from southern gospel and Hank Williams to Neil Young, Little Feat, Ozzy Osbourne and Lynyryd Skynyrd, the band cut their teeth performing with everyone from Black Stone Cherry and the Kentucky Headhunters, to Cadillac Threeas well as Ace Frehley, an original member of KISS. Shortly after, they hit the iconic Barrick Recording Studio in Glasgow, KY to record with producer Richard Young. The resulting EP comprises undeniable anthems steeped in anthemic riffs, wild harmonica, and pulse-pounding drums. For more information on The Georgia Thunderbolts, visit georgiathunderbolts.com. 
Follow the Thunderbolts on social media:Facebook | Instagram | Twitter | YouTube 
Label Contact:
Ron Burman / Mascot Records burman@mascotlabelgroup.com 
Management Contact:
Richard Young tele_scratcher@yahoo.com 
Booking Contacts:
Alec Vidmar / UTA (Nashville)
Anthony Paolercio / UTA (New York)
anthony.paolercio@unitedtalent.com 
# # #